Digital marketing. The buzzword counterpart that has encompassed traditional marketing or something more?
Marketing is all about being right. From the very beginning, marketing has always been about connecting with the right consumers at the right time, in the right place. Digital marketing is simply an adaption to traditional marketing because most consumers are now digital. Which makes the right place, somewhere digital. 
Think about billboards. When is the last time you've noticed a billboard and decided to purchase whatever it was advertising? 
OK, I can actually think of one time… My fiancé and I were on a 12 hours road trip and the "Eat More Chicken" billboard caught my eye. We headed to the Chick-Fil-A off exit 42 a mile later. 
But really, think about this: Although self-driving cars are quite a ways away, ride-sharing like Uber and Lyft allows passengers to take their attention off the road and onto their… smartphones! And it isn't just passengers using ride-sharing. It's any passenger.
Honestly, I am surprised I even saw the "Eat More Chicken" billboard, because I am a horrible riding passenger. I'm usually silently scrolling through my phone. (I am genuinely sorry to all my friends and family for this horrible habit. But hey, I'm not the only one…)
Americans spend 10+ hours on electronic devices, every single day. And you can bet that number is going to continuously increase. Digital marketing is an adaption to more traditional forms of marketing. It's a necessity. 
Let's back-up and start with the basics. 
What is digital marketing?
Neil Patel, Founder of Neil Patel Digital and Wall Street Journal's "top influencer on the web," defines digital marketing: 
Digital marketing is any form of marketing products or services that involves electronic devices.
In 1910, there was a broadcast announcement of an opera performance at the Met. Eager listeners bought tickets to attend the event, and thus digital marketing was born. 
Apologies to all of the millennials who think they're on the cutting edge of digital marketing. It's been happening for the past 109 years. 
So, I guess all of us digital marketers should tip our hats to Guglielmo Marconi (the inventor of radio) in gratitude for our jobs.
But seriously, when you think "digital marketing," the internet comes to mind. However, there are two pillars of digital marketing: online and offline. Both are essential in a well-rounded digital marketing strategy. 
Speaking of digital marketing strategy…
What is a digital marketing strategy? 
Hubspot describes a digital marketing strategy as "the series of actions that help you achieve your company goals through carefully selected online marketing channels."
Not to be holier than thou Hubspot, but I would make a slight correction to this definition. As I said before; a well-rounded digital marketing strategy includes online and offline channels. 
So, let's change this definition: 
Digital Marketing Strategy – The series of actions that help you achieve your company goals through carefully selected online and offline marketing channels.
By Hubspot + Sam Pacheco
A strategy can easily become overwhelming. It will involve various marketing channels with many moving parts, but all in all, it is a set of plans that will move you closer to your business goal(s). 
What channels make up digital marketing?
For the sake of completeness, we are including 7 of the main online and offline channels. However, your business will most likely not use all of these. 
There are 7 main channels of online digital marketing: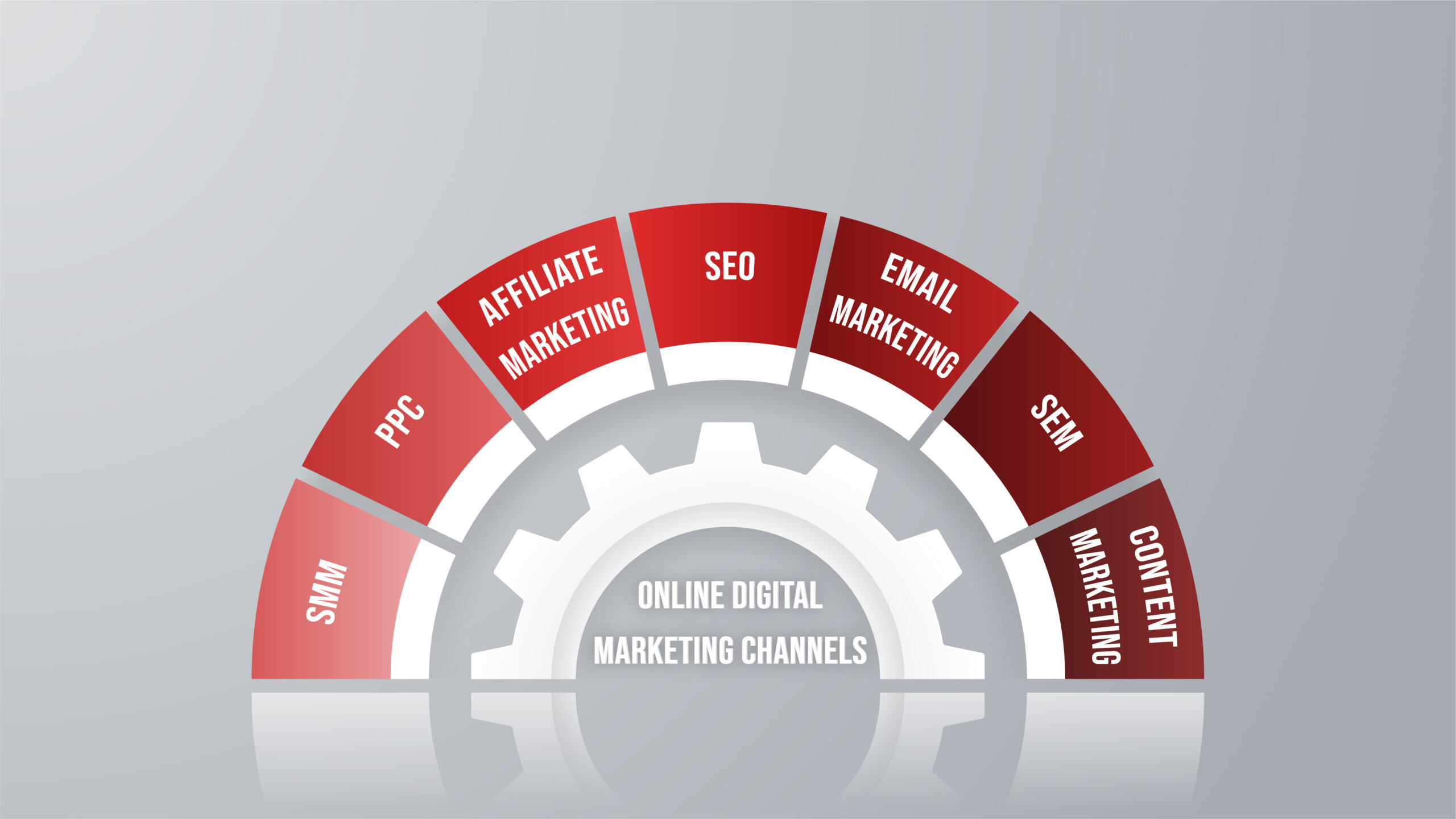 Search engine optimization (SEO)
Search engine marketing (SEM)
Content marketing
Social media marketing (SMM)
Pay-per-click advertising (PPC)
Affiliate marketing
Email marketing
There 7 main channels of offline digital marketing: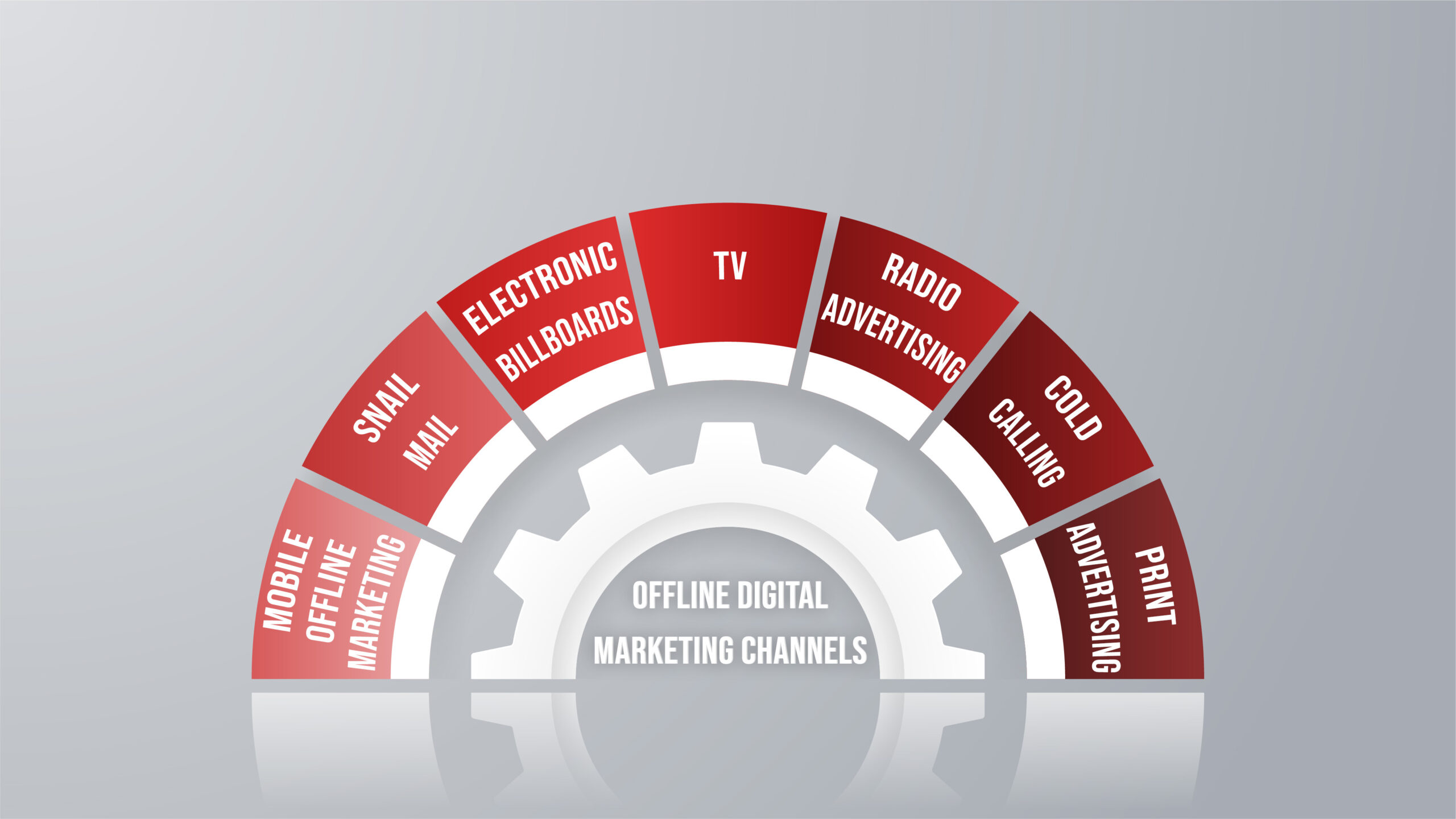 Electronic billboards
TV advertising
Radio advertising
Print advertising
Cold calling
Snail mail
Mobile offline marketing
What is the future of digital marketing?
Although we can't predict the future, we can study history. And history indicates that digital marketing techniques are integrating with traditional forms of marketing, essentially developing enhanced marketing channels. (eg. digital billboards)
We can expect this type of thing to continue as new technologies continue to emerge. Take for instance, voice and mobile searching. Search engine optimization is continuously changing as consumers are frequently presented with new ways of searching. Hey Alexa.
That barely even scratches the surface. Artificial intelligence (AI), virtual reality (VR), bots, user experience (UX), geo-targeting, The Internet of Things; All of these technologies will continue to disrupt marketing and ignite changes and adaptations. The key to staying in the game: keep an ear on the ground, because change is a-coming. 
"One of the big reasons we are seeing digital marketing change so much is because of the adoption of new technologies. But also because the web is getting saturated… there are 1,805,260,010 websites on the web." – Neil Patel, Founder of Neil Patel Digital and Wall Street Journal's "top influencer on the web."
 "Regardless of how they were inspired to visit our website, we want the website to be relevant and responsive to what they're looking for," says Ms Kormis of Georgetown University. 
What are the benefits of digital marketing?
If you want your company/brand to stay in the conversation, you have to be digital.  Luckily, it's essentially accessible to everyone. It costs much less than most traditional forms of marketing, so implementation is not particularly expensive.
Possibly the most influential benefit, (at least rated by these 499 CMO's,) is the capabilities that digital marketing provides to produce personalized marketing content for an individual consumer. Social media, email marketing, mobile apps: These channels will help you scale personalization. (Which I realize, seems like an oxymoron, but figure that one out and you are on top of the game.)
Take a look at these examples: 
Word of Mouth Advertising 
Wendy's Twitter account. One of the most memorable, and accidental, word of mouth advertising campaigns was when Wendy's decided to help a 16 year-old boy from Reno, Nevada in his quest for free chicken nuggets for life. Everyone (3.5 million people) was talking about Wendy's, Carter Wilkerson and the tweet that held the record (up until 2019) for the most retweets ever.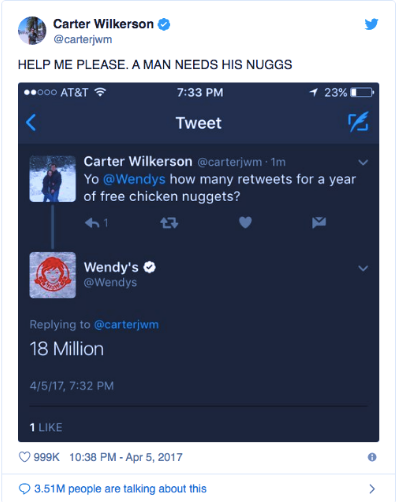 Although your company is not Wendy's, (unless it is, then that's very cool that the CEO of Wendy's is reading our blog. HEY!)  there is a lesson to be learned in how Wendy's active social media presence resulted in a huge word of mouth campaign. Without digital marketing, this would not have been possible. 
Create and Foster Relationships
Recently I subscribed to a copywriting newsletter from a brand called VeryGoodCopy. One of the first emails I received was a question asking why I signed up for the newsletter. Typically I don't respond to these. But maybe it was his persuasive copywriting, who knows. Anyways, I responded with my reasoning. A few days later, I received an email from the copywriter himself, Eddie Shleyner.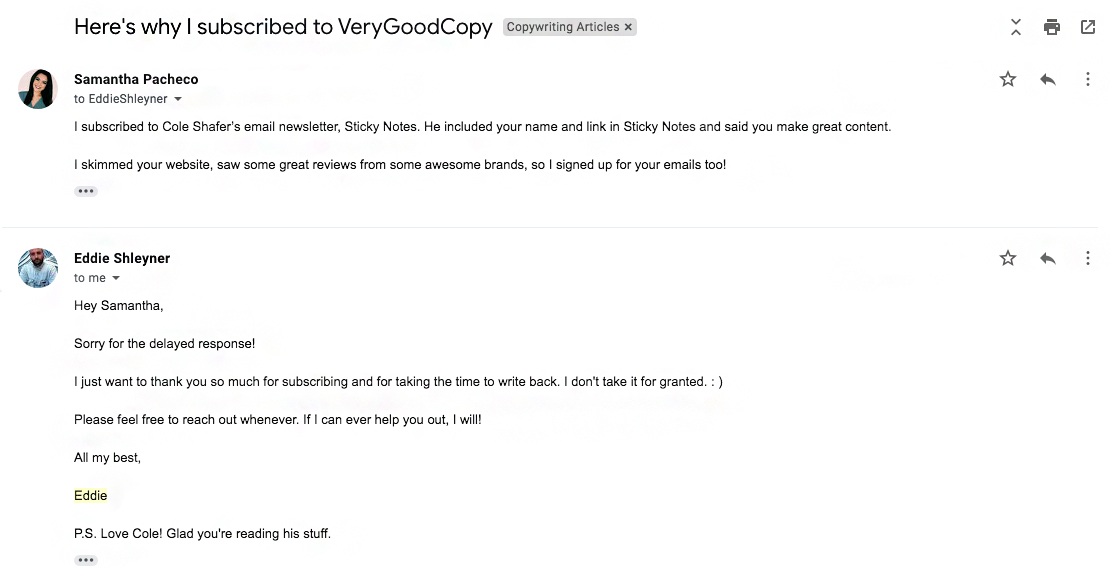 Now, let's be honest, this isn't an extraordinary conversation. But it doesn't have to be. 
When the VeryGoodCopy newsletter hits my inbox, I notice. Why? Because Eddie Shleyner took a minute to make a genuine human connection. He put a face, name and voice to his brand, and that's what I think about when I see the newsletter come into my inbox.  
Neither of these examples cost either brand any direct costs (except the money that Wendy's is losing from Carter Wilkerson getting free chicken nuggets for life.) They didn't require fancy equipment or extensive knowledge of the World Wide Web. 
All they did was personalize a digital marketing strategy to speak to one person. 
Not to say that digital marketing is easy, but it is very accessible. However, it is also time consuming. And as with life, you will reap what you sow. 
How to get in on the action:
There are many techniques that you can implement free of charge and on your own time. However, if you're looking for a well-rounded digital marketing strategy, hire an agency. As I said before, there are many moving parts within a strategy and those parts can get scrambled and confused very quickly.  An agency will not only help your business form a digital marketing strategy that directly tends to your needs, but they will also help you implement and maintain that strategy.
Our Services
At ADventure Marketing, our specialties include web design, seo optimization, and video production. Our best work has come out of combining all of our skills to create custom marketing material for our clients.
However, sometimes clients don't need it all. We are happy to accommodate our clients and create the best marketing strategy for them, even if it means using only one or two of our services.