If you're looking to take your business to the next level, stepping up your graphics is a great place to start. Visuals rule the world and are responsible for many key elements important to growing a business. Still graphics and animations are compelling ways to develop a brand and spice up any video, website, or social account! But when is the best time to use them? Are animations always better than static images? Here are some tips to consider during the creative process of your company's visuals! We hope to spark some graphic design ideas for you! 
Creating Graphics for Video:
Video is all about movement and feeling. Animated graphics will almost always work best to capture viewer's attention as long as they don't crowd the screen. When you're making animations for video, consider the footage you will be putting the graphic on top of. Balance is key! For example, if you want to put a graphic over a quick-moving drone shot, a more subtle animated graphic might work best. Similarly, if you're working with footage shot on a tripod, this could be an opportunity to be bold with your animations.
A great opportunity to include animated graphics in video is by bringing your logo to life! There are endless possibilities of how to do this. First, take a really good look at your logo. Is it simple? Is it complex? Are there elements of it that already imply movement? Take the Nike logo for example, a logo that is nicknamed "The Swoosh." One way to animate that? Well, make it swoosh! Super simple, but effective. Don't overthink it!
Creating Graphics for Website:
When it comes to building a website, the ultimate goal is for users to be able to navigate it with ease and find everything they need. That being said, first impressions are powerful. Graphics are essential for giving a website its own unique style and making it pop!
One major thing to remember when creating graphics for a website: simple is better. While animated graphics tend to stand out more in video, static graphics on a webpage are usually more functional and don't overcrowd the site. Still visuals will add beauty to your website and are able to communicate strong CTAs in an eye-catching manner! A great way to get graphics more involved on your website is by transforming things like lists into pictures. For instance, instead of listing out the steps of our video lead generation process into plain bullet points, we revamped the information into a cool chart!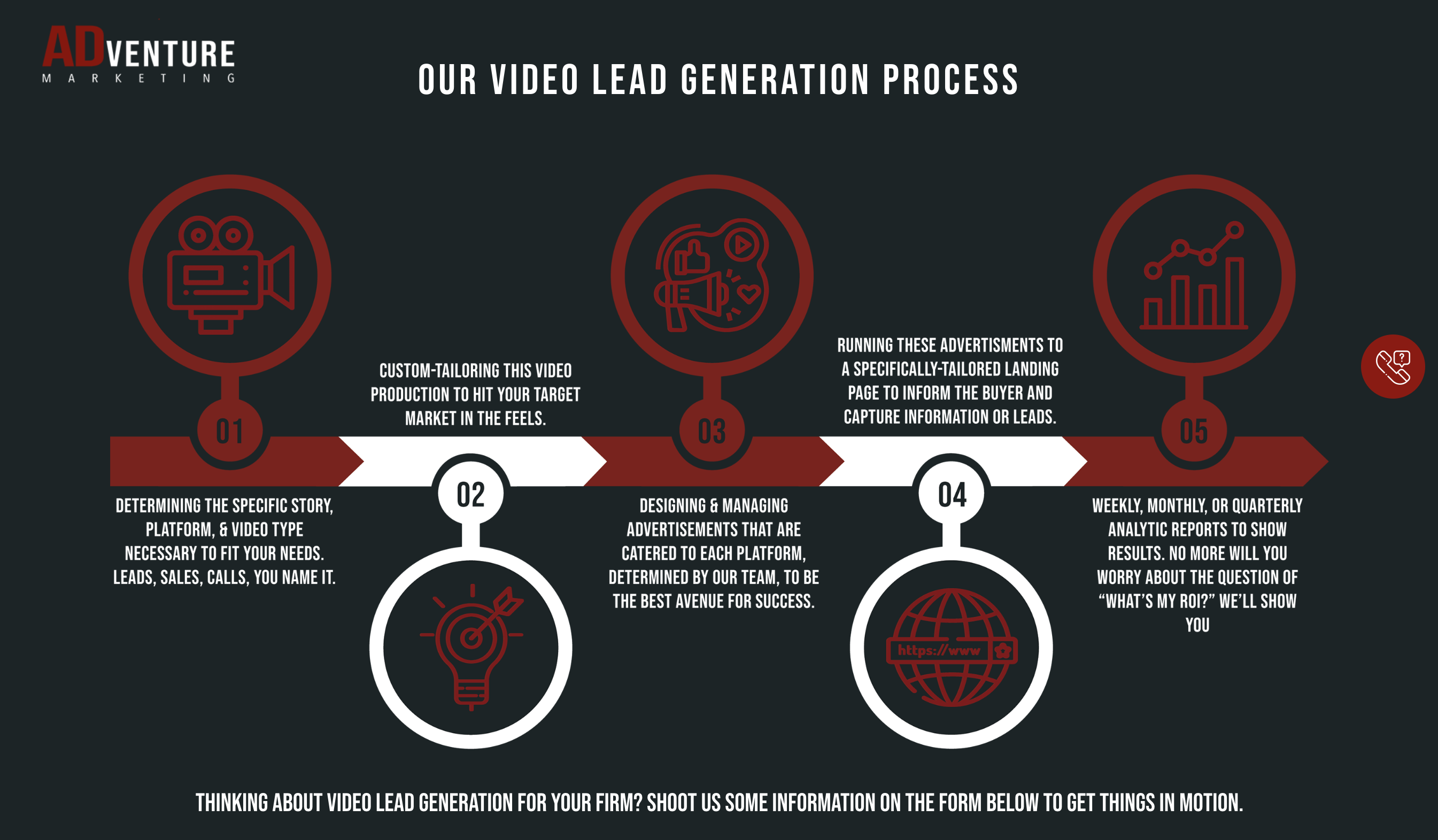 Another important tip: your web developer is your best friend! If you still want to add some spice to your site, collaborate with your web developer and see if you can add some effects to your graphics. We added a mix of still and animated graphics to our client's website, to create a fun and engaging user experience. Small details like making an icon hover, have a moving background, or have an image fade in can really pull everything together!
Creating Graphics for Social Media:
Remember earlier when I said visuals rule the world? Well, social media platforms like Instagram are a perfect example of that. Instagram has become an extremely powerful tool for branding and growing businesses. When you're making graphics for social media, everything is fair game! Animations and still images should both be shared here. What's great about making graphics for socials is that you can really get creative with it! Having an Instagram account is a great way to seek out top trends and tailor them to fit your brand's vibe, colors, etc.
If you're trying to decide on whether to use an animation or static graphic for socials, think about the execution. Making a killer campaign? Animated graphics are a great way to catch people's eye, attract attention on feeds, and dominate the competition. Using influencers? Keep it straightforward with a static graphic, but keep it striking. If you're sending an image out to be posted by multiple accounts, you want to keep the processes manageable and effortless.
---
Here at ADventure Marketing, our visuals help us rule our world. We want to make sure your visuals do the same for your world!